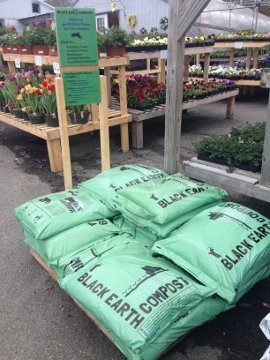 Cubic Foot Bags
Black Earth Compost is available at Garden Centers and Grocers in cubic foot bags throughout Massachusetts, New Hampshire, and Maine. Find a location near you in the retailer map below.

Learn more about our nutrient rich, living compost here.
10 cents of every bag sold supports our Farmworks program, putting compost to work on small Massachusetts farms.
If you require more than a few bags of compost, mulch or soil blend check out our bulk compost delivery service.
Curbside Pick Up Voucher Program
Households that participate in curbside compost pick up receive a voucher for a bag of finished compost in the spring or can elect to donate their finished compost. New customers as of March 15th, 2019 will receive compost in spring 2020. Redeem vouchers at participating Garden Centers highlighted with a green marker in the retailer map below.

Garden Center Map Legend


Accepts Vouchers

Does Not Accept Vouchers
Zoom to your location and click on a map marker for more information about a Garden Center location.
How Much Compost Do I Need?
One bag of compost is one cubic foot. One bag of compost would cover 14 square feet with a half inch of compost.
| | | |
| --- | --- | --- |
| Compost Depth | Bags/ 100sq.ft. | Yards/ 1000sq.ft. |
| 1/4" | 3.5 | 0.75 |
| 1/2" | 7 | 1.5 |
| 1" | 14 | 3 |
| 2" | 28 | 6 |
| 3" | 42 | 9 |