Earn Free Curbside Compost for a Year!
By doing just one of the following tasks you could earn free compost pick ups for a year. Offers are available on a first come first serve basis to existing and new customers.

1) Get Your Workplace Composting
Everybody, everyplace has food waste. Even a small office, or a major corporate headquarters or school. Any place east of Interstate 495 or close to it is within our range with only a few exceptions.
2) Get a Restaurant, School or Business Composting
You know your town, you know who might want to start composting better than we do. If interested, we will mail you flyers to help sell the idea of composting. Let us know who you reached out to so we can see if they sign up.
3) Host Green Bins at Your House For New Customers to Pick Up
Keep 30 or so green bins in a secure location and we will email you when a new customer signs up. Set the bin outside for them to take home. The bins stack well and take up about a 5'x5′ space if you have a shed or garage with room.
4) Host a Missed Pick Up 64 Gallon Barrel
If someone in your area didn't have their bin out in time, they can empty it in your 64 gallon barrel. Sometimes people are gone and missed their pick up day, or they slept in. This gives them a local option to dump their bin if they can't wait until their next pick up. We will keep it lined with a compostable bag so it stays clean and pick it up weekly.
GET ADDITIONAL PERKS IF YOU DO MORE THAN ONE
Like free finished compost delivered, free compostable bags, free yard waste collection, hats or shirts. Let us know what piques your interest.
Thanks for helping drive sustainable practices in MA. It really makes a difference.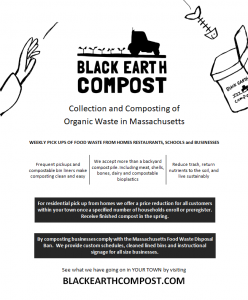 ---
Fill Out The Form Below To Inquire