Photo: Marilyn Humphries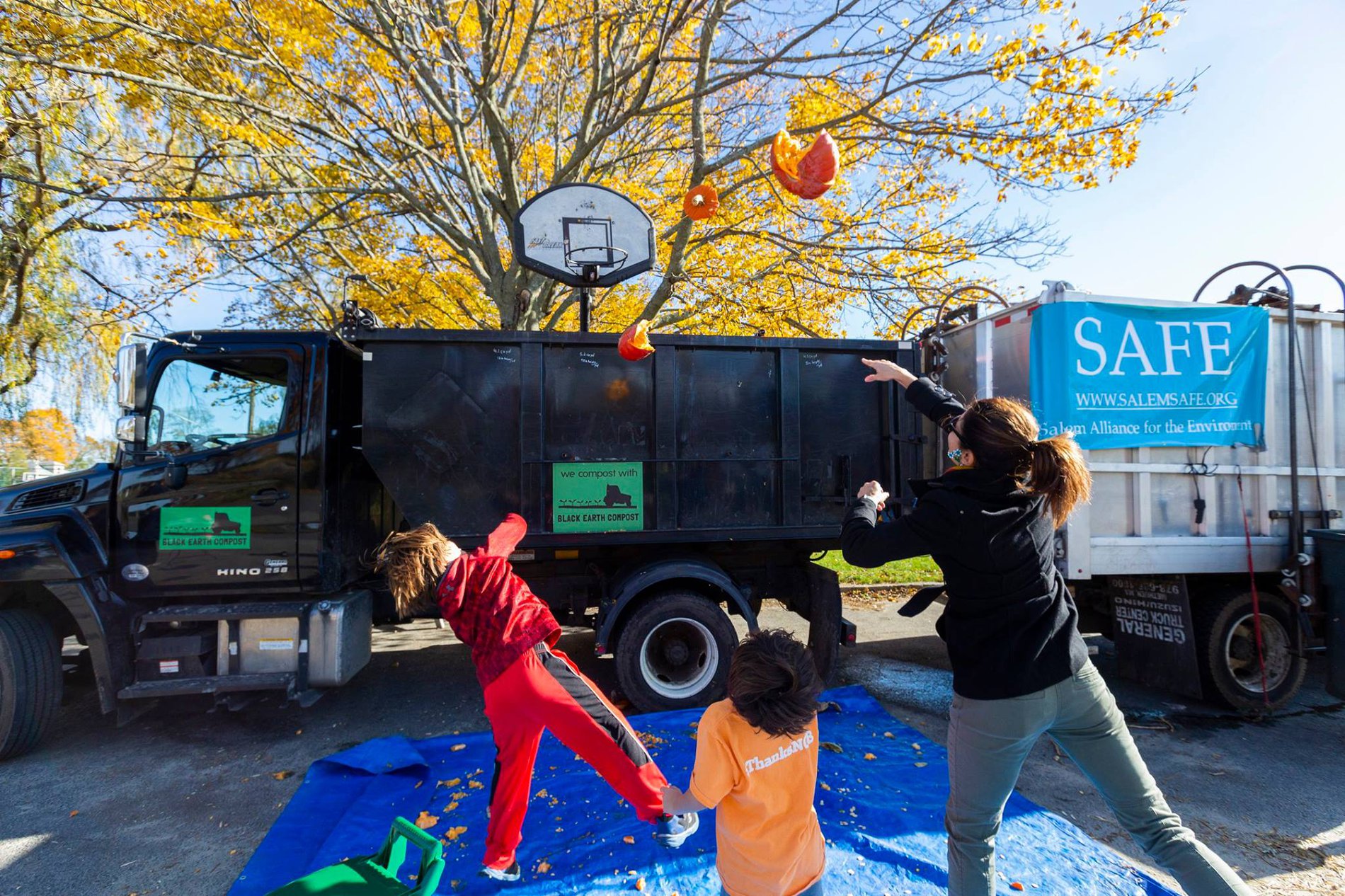 Commercial Service: Give it a Shot!
Let Black Earth Compost help you establish a food scrap pick up program that meets your establishment's needs. Our pick up service can scale from small offices and restaurants all the way to large supermarket chains and corporate headquarters.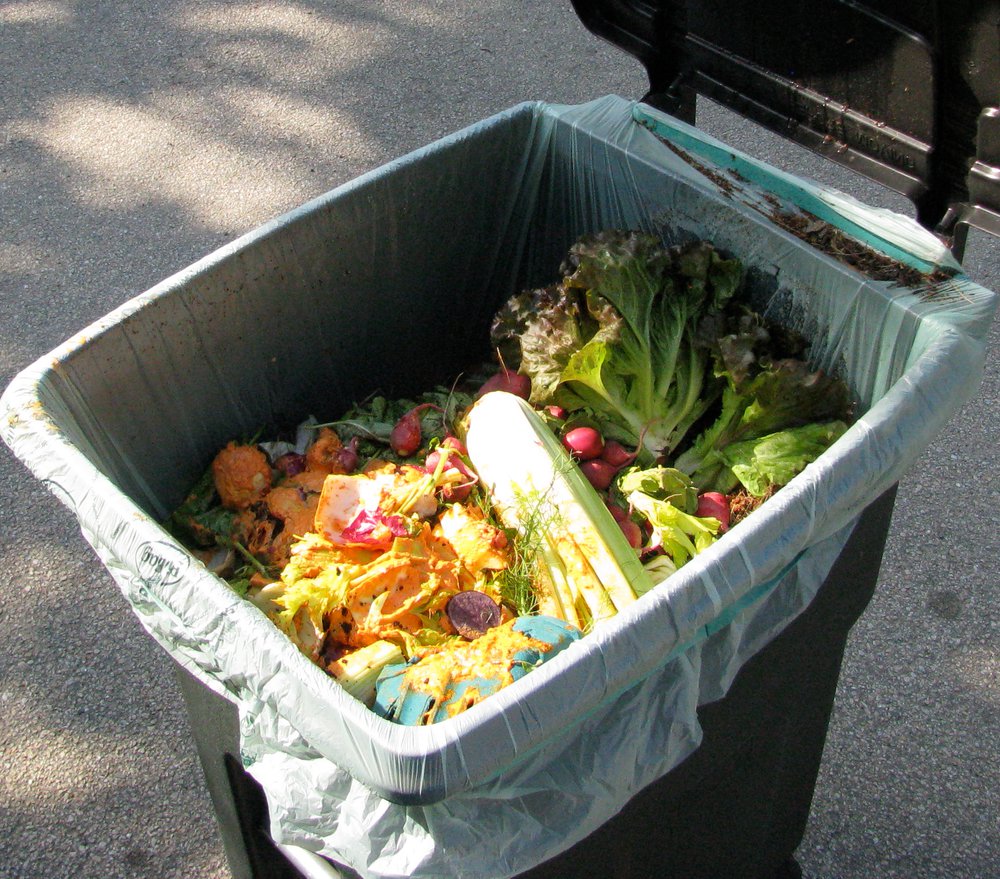 Reduce Trash Costs with Compost Pick-up
We work with organizations across eastern Massachusetts to implement customized food waste collection systems. We are the only integrated company that does both the hauling and composting which lowers your costs. As a result we have the lowest prices and can guarantee your food scraps are being composted and returned to the soil. We also collect from thousands of residents and like to showcase businesses that are like minded.
CUSTOMIZED SOLUTIONS
Pickup available 2-7 days a week in many places.
Various sizes of totes with compostable liners.

We service offices, restaurants, schools, colleges, hospitals, grocery stores, malls, hotels, bakeries, coffee shops, dog groomers, and more.
Worried about compost being messy? Compostable bags make disposal of your food waste clean and convenient.

The compost toters are lined with a compostable bag on every stop.

It's as simple as moving food from a trash bin to a compost bin, so its no smellier than trash.
Want to know more? Call us at 978-290-4610, extension 2. Or get started by requesting a quote online.
Restaurants, Grocery Stores, Schools, etc.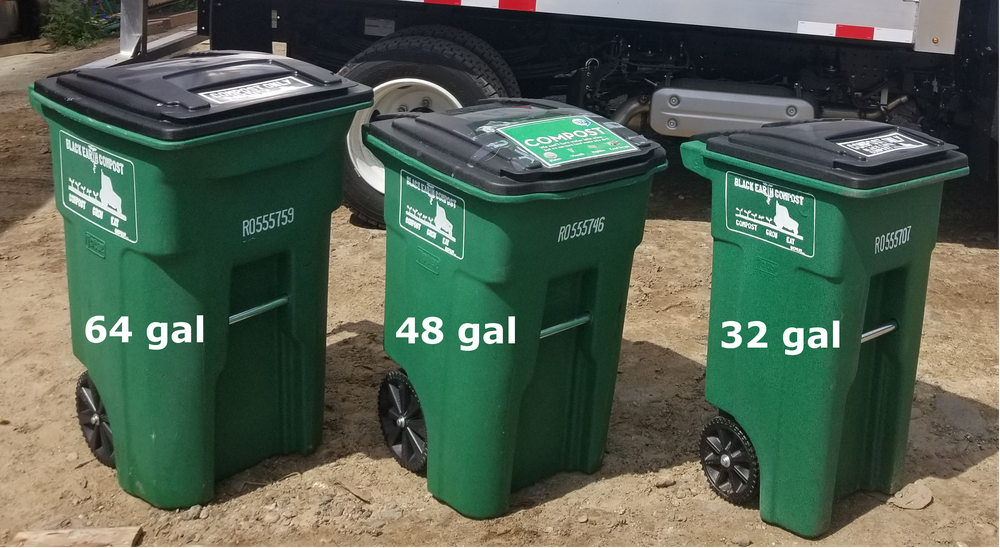 Choose a Bin Size That Meets Your Needs
Available in 64, 48, or 32 gallon wheeled totes.
REDUCE YOUR TRASH UP TO 40%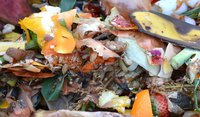 Toss All Food, Napkins and Coffee Filters
Dairy Products
Meats and Bones
Coffee Grounds, Filters and Tea Bags
Seafood and Shells
All Soiled Napkins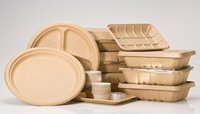 Certified Compostable Service ware
We accept BPI, CMA and TUV certified compostable bioplastics. We recommend Key Compostables for wholesale purchase of certified compostables. Please mention you were referred by Black Earth Compost.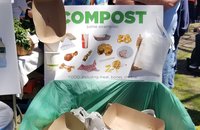 Mix it All in One Bin
All compostable items are tossed in the same bin, no sorting food scraps and compostable plates necessary. Choose a tote size to fit your waste needs.
Our Customers Include: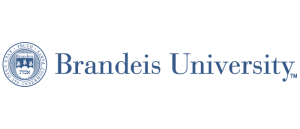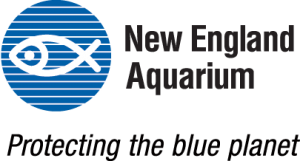 "When Massachusetts implemented mandatory composting for all restaurants and food retailers several years ago, we at the Fruit Center Marketplace thought it could be a heavy burden until we started doing some research. Once we did, Black Earth was the best choice. Overall, they have been excellent. Composting is now a seamless part of our everyday routine. We separate out our organic waste, and Black Earth takes care of the rest. They are helpful and attentive to our questions and concerns and make the whole process of composting easy." - Fruit Center Marketplace owner Michael Mignosa
Hear first hand from Johnny's Luncheonette owner Kay Masterson about her restaurant's experience composting in Newton.
Back In The Office, We Can help!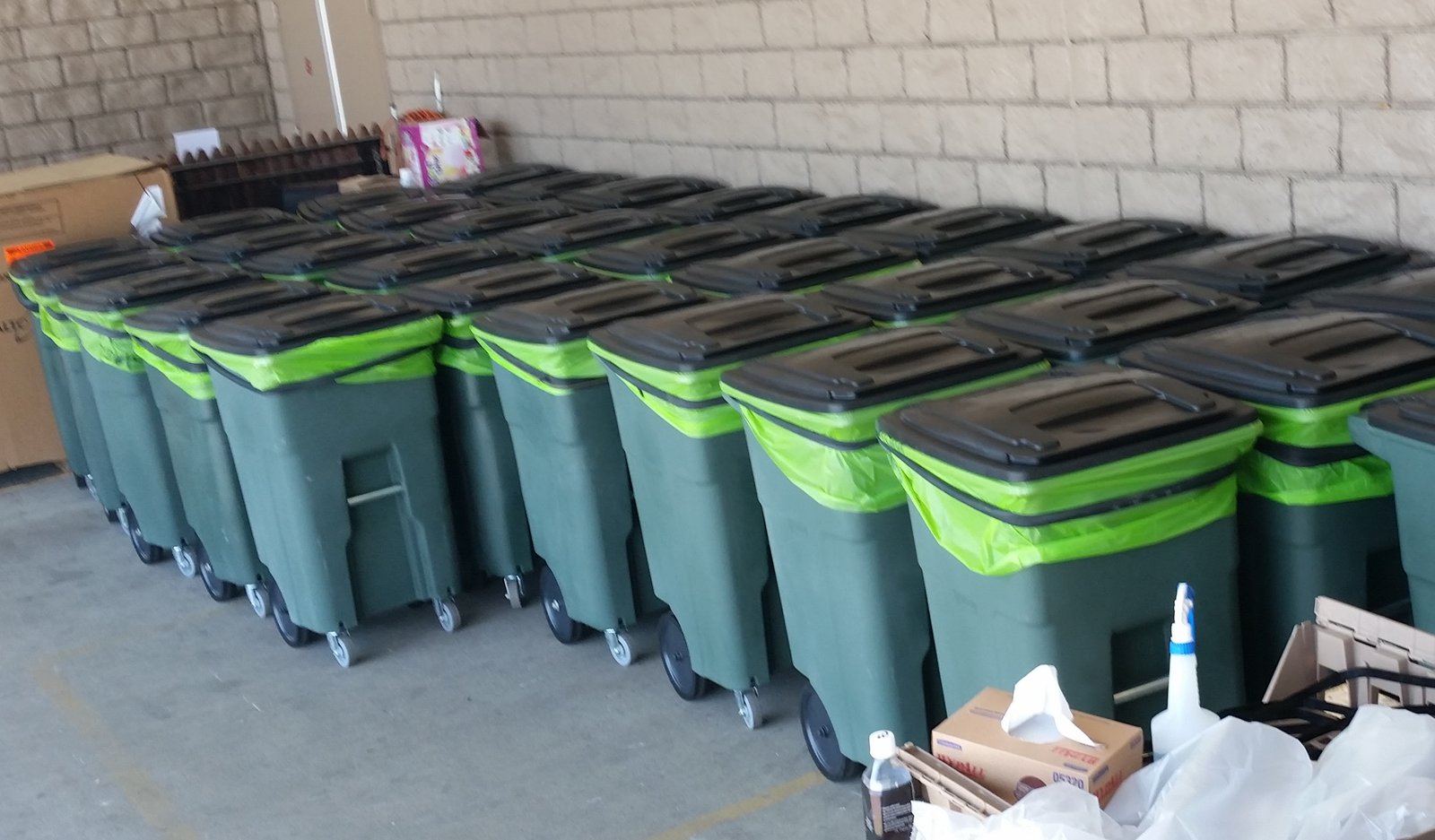 Estimate Your Compostable Waste
Are you in compliance with the Massachusetts food waste disposal ban?
How much do you generate?
Free Assistance with Starting or Improving a Compost Program
Recycling Works is a free assistance program, funded by MA DEP, that helps businesses and institutions reduce and divert waste from disposal. They will walk you through the basic steps of starting a new recycling or composting program or improve on an existing program.

Call (888) 254-5525 or send an email to info@recyclingworksma.com.
Learn More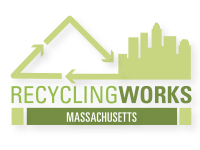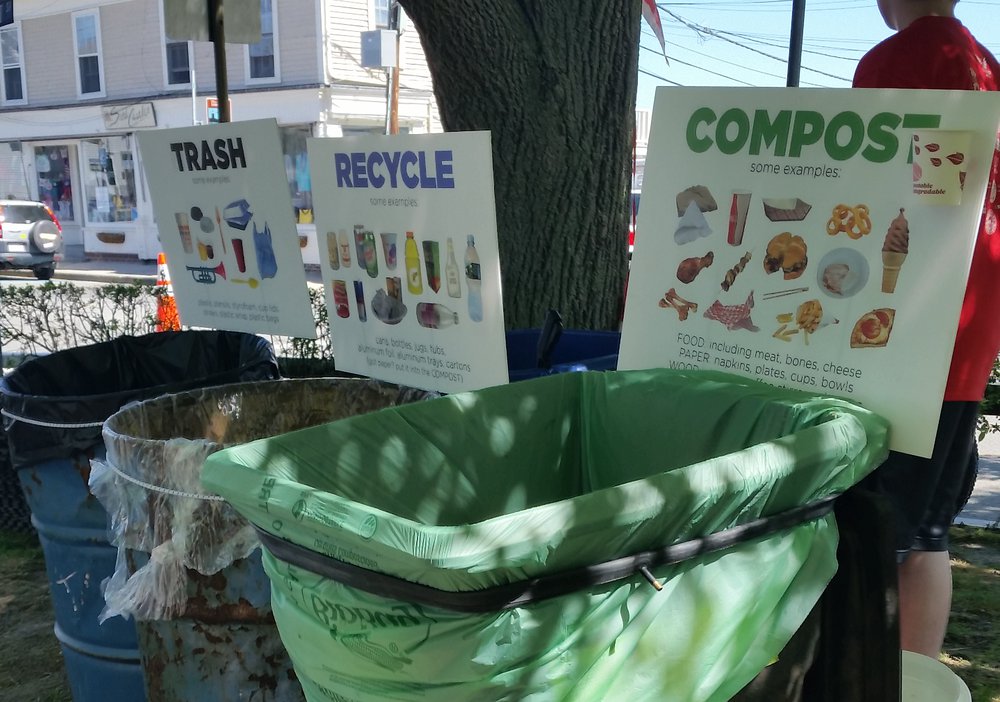 Events
Looking to create a zero waste event, such as a fair, fundraiser, or wedding? Let Black Earth handle the compost! We currently offer event collection on Cape Ann and for large community wide events greater than 1,000 people throughout Eastern Ma and RI. We can arrange the drop off of compost totes at your event and pick them up after the event is over.

Call 978-290-4610, extension 2, or request a quote online for more information.
Residential collection customers can put out event waste in yard waste bags with their regularly scheduled pick up with the purchase of Event Stickers. Unfortunately at this time, we are unable to offer event collections outside of Cape Ann for smaller events, like weddings, bar mitzvahs, etc. if they can't be in yard waste bags on your current collection day.

Download signs for your event.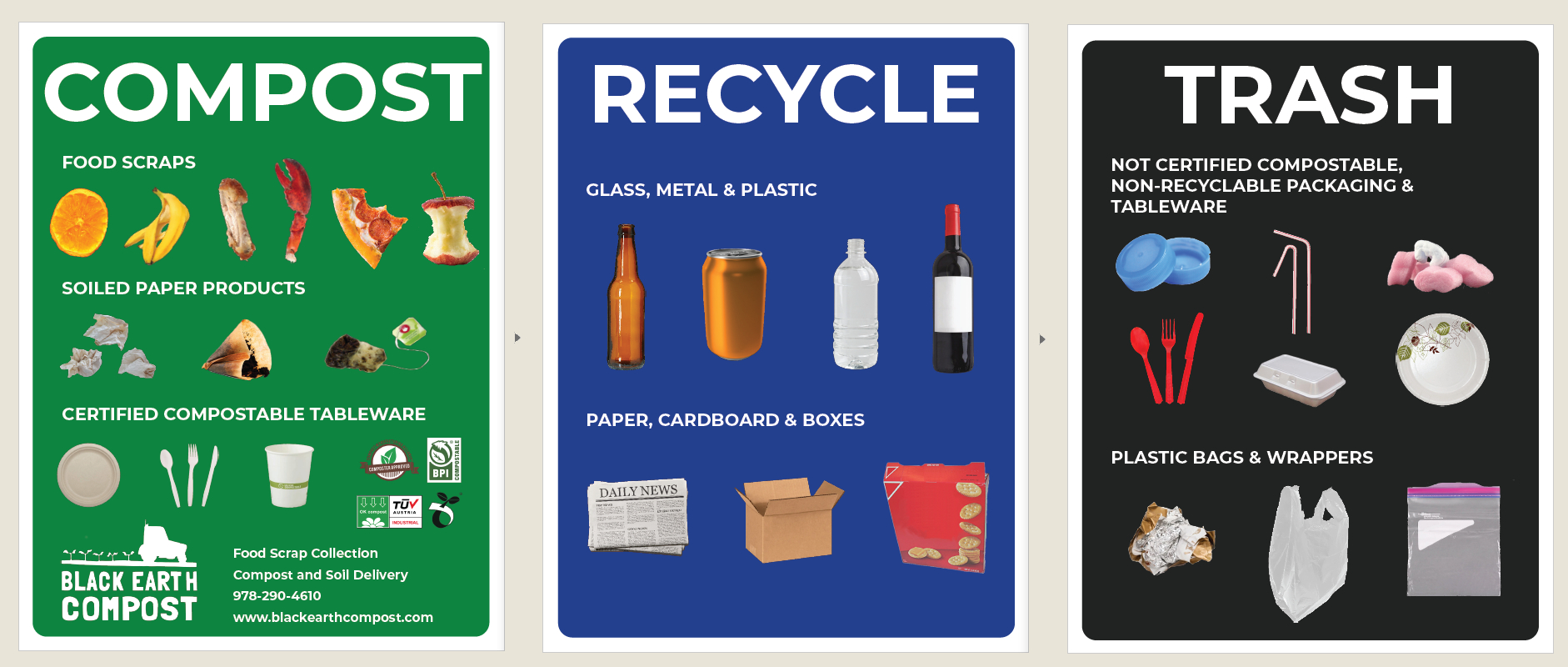 Request a Quote
Acceptable Compostable Material and Packaging
In order to ensure compostable material will break down into non-toxic substrates in a timely manner we only accept compostable packaging certified by a third party. We accept the following third party certifications:
Look for their logos on packaging or visit the BPI Approved Product Search Tool or CMA Approved Product Listing to find compostable cups, bowls, plates, trays, straws and more for your business. We can also work with your vendor to get approved products.
BPI Certified Products CMA Certified Products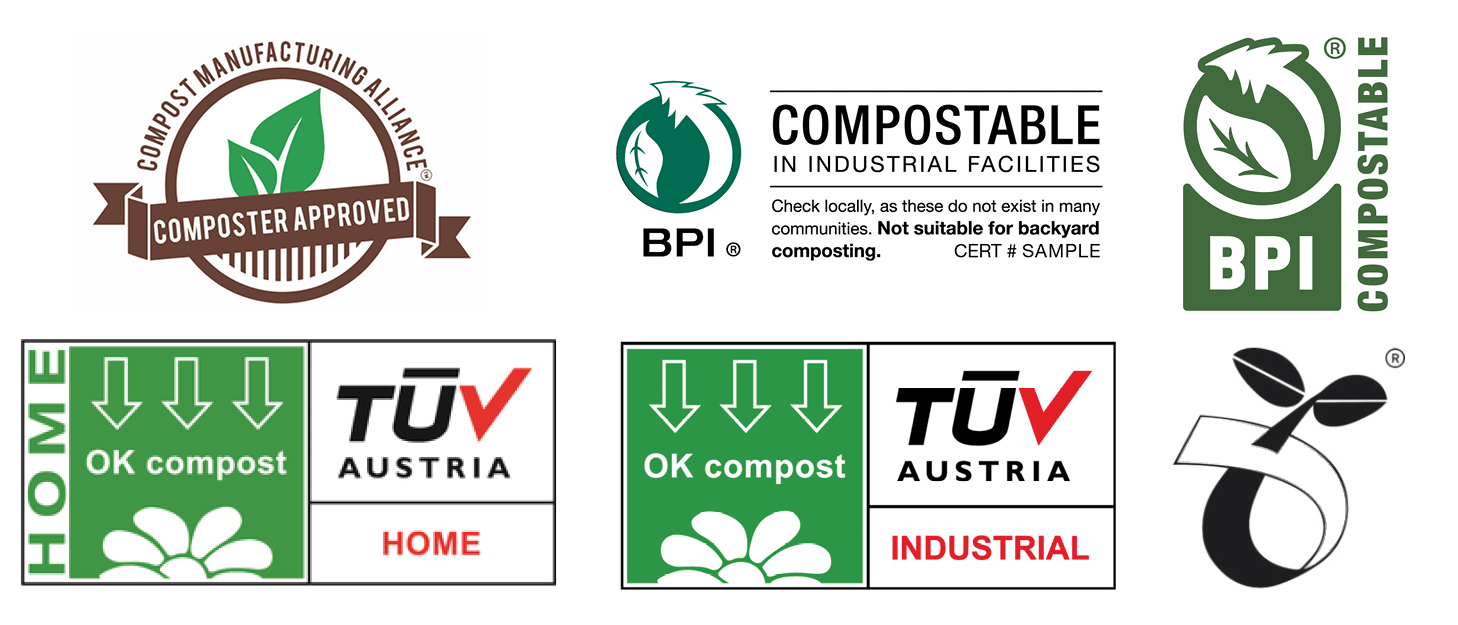 The words biodegradable, compostable or ASTM-6400 alone are not enough for us to accept a product. It needs to be third party certified to ensure it breaks down into acceptable non-toxic substrates in a timely manner.
Wholesale Compostables for Restaurants, Schools, or Commercial Business
For wholesale purchase of compostable items for restaurants, business or schools we recommend Key Compostables. Become a wholesale purchaser here and make sure to list us as a reference:

More information on certified compostable school lunch trays.
English/Spanish Compost Sign
Print this sign to hang next to your compost bin.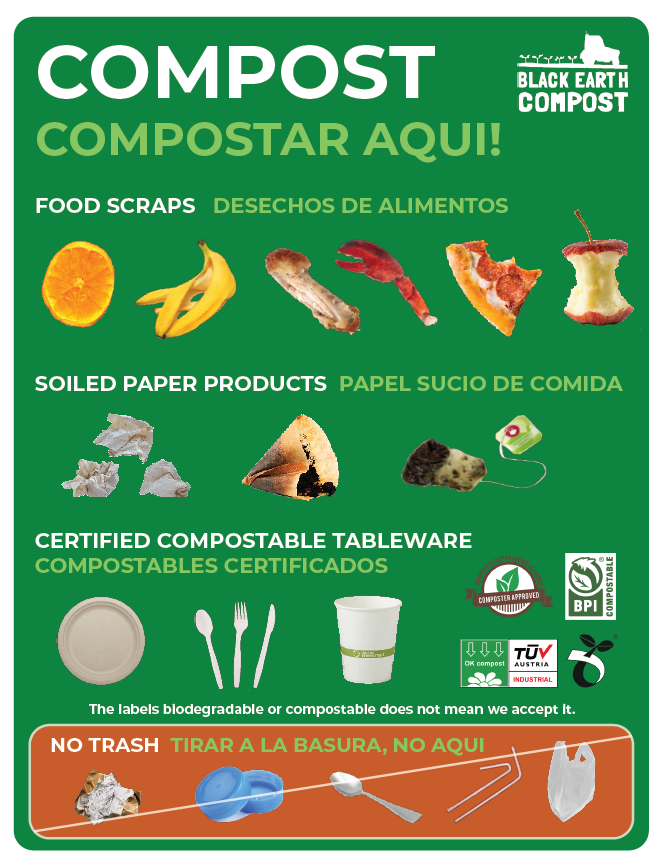 Sustainability Partners